Swimming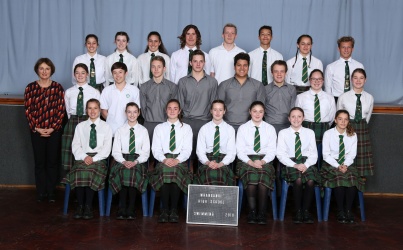 (PHOTO: Swimming Team 2018)
Swimming 2018
The school swimming sports day this year is on Thursday 15 February, 1pm-3pm at the Splash Centre.
Successful competitors will be selected to represent Whanganui High School at the Whanganui Secondary School Championships on Friday 2 March.
Later in May, swimmers who meet qualifying times will represent Whanganui High School at the North Island Secondary schools competition in Palmerston North.
Some swimmers may wish to participate in the National Secondary School competition which is in Term 3.
Teacher-in-Charge: Ms T Martin (martin.t@whs.ac.nz)
Teacher Profile: Ms Martin has been involved with swimming in assistance and now management capacity, since she started at WHS in 2004. Ms Martin has 3 sons who all trained with the Wanganui squad, swam for WHS and have had some success at national level. She has managed the organisation of the school team with the Wanganui regional competition each year. In May, she takes a team of top swimmers to the North Island Secondary Schools Championships in Palmerston North if they have qualified. At this meet our WHS swimmers always perform creditably against many of the country's top competitors.