VOLLEYBALL - Girls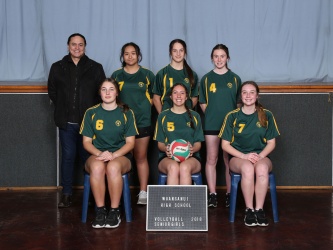 (PHOTO: Girls Snr A Volleyball Team 2018)
Volleyball Girls 2018
Trials for teams are at the start of Term 1. Students need to attend these if they wish to play. Opportunities to create own team also exist.
Practices vary during the week but there are generally at breaks or after school in the Seddon or Reeves gym.
All Junior students participate in an interschool competition in Terms 1 & 4 at a small cost, run by Sport Wanganui.
Senior Social teams play Term 1 only.
The Senior Boys & Girls teams work towards going to Secondary School Nationals in Term 1.
Cost: $10 - Juniors and Seniors
Terms: 1 and 4
Teacher-in-charge: Mrs M Bennetts (bennetts.m@whs.ac.nz)