Father and son shine on city streets
05 July 2018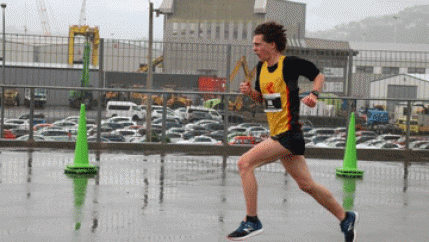 Talented Whanganui athlete Liam Jones (former WHS student) sprints hard at the end of his victorious marathon debut in Wellington at the weekend.
PHOTOS / Tanysha-Rochelle Jones
Whanganui father and son Peter and Liam Jones set a notable milestone in the 33rd Gazley Volkswagen Wellington Marathon at the weekend. They both lead the way for Whanganui runners in wet Wellington.
Several notable milestones were set by Whanganui runners and walkers at the 33rd running of the Gazley Volkswagen Wellington Marathon last week.
For many of the more than 30 Whanganui, Rangitikei and South Taranaki competitors it was their debut at the annual event, but it was especially notable for the Jones family.
In atrocious conditions, father and son Peter and Liam Jones not only ran their first marathon at the same event, but Liam won the U19 men's race clocking 3.08.24. Peter contested the 50-59 men's age group event clocking 4.45.01, a handy time for a marathon debutante.
Liam Jones is now at Victoria University and running for Scottish Harriers. He won the Senior Boys Whanganui Secondary Schools Cross Country Championships and Senior Boys 3000m and 1500m in 2017 running for Whanganui High School. He has been a dedicated Wanganui Harrier Club member for almost a decade now.
Mother Mandy Jones said her husband Peter had always wanted to make his marathon debut with her, but ill-health for many years prevented that.
"I used to run half marathons and Peter and I had planned to run our first full marathon together but I have suffered ill-health for the past 30 or more years, so he decided to finally run his first at the weekend with Liam," Mandy Jones said.
"His time was pretty good for a 57-year-old and especially in those conditions. There were 100kmh wind gust and rain, especially around Evans Bay. I don't know how Liam found the energy to sprint like he did at the end to win his race."
Evergreen harrier club runner (and WHS teacher) Mignon Stevenson won the 60-69 women's marathon run in 4.25.55.
Whanganui also had the Neva Beans team compete, a group of runners and walkers keen on the sport.
Neva Beans Leanne Allan, who is also a Wanganui Harrier Club athlete, won the 40-49 women's half marathon walk, cocking 2.25.18. Team mate (and former WHS student) Liam Brown was runner-up in the U20 men's 10km walk in 1.15.33, while Tina Redpath was third in the40-49 women's 10km walk in 1.20.34.
By Iain Hyndman
Wanganui Chronicle 5/7/18