Keightley Watson will travel the globe for judo glory
09 July 2018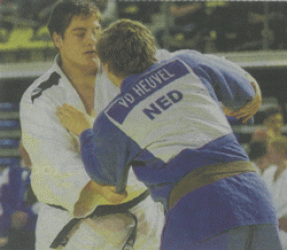 Whanganui's Judoka exponent Keightley Watson will start a busy six months of competition and training, first in Hong Kong on Saturday.
Photo / Supplied
Whanganui judo star Keightley Watson will be flying nearly non-stop around the world between now and the New Year, starting out with departing New Zealand on Wednesday for the Hong Kong Asian Cup.
Watson will compete in the Over 90kg weight division on Saturday in Hong Kong, followed by the Junior Men's competition (18-21 year olds) in the plus 100kg grade on Sunday.
The 17-year-old judoka will then travel to mainland China for a three day training camp in Macau, which is followed by competing in the Macau Asian Cup, again entering both Cadet and Junior Men's divisions over two days.
Father Ross Watson said both these Asian tournaments are on the International Judo Federation (IJF) calendar with, world ranking points up for grabs, which are important for seedings at further tournaments.
"There are 23 nations competing in Hong Kong and 24 nations in Macau, with New Zealand sending a mixed team of eight judokas fighting in a mix of cadets and juniors."
Keightley Watson will then come back home on July 23 to get ready for the Auckland Open International five days later, where he will fight in the Cadets, Junior Men and Senior Men's divisions.
At last year's Auckland event he won silver and gold respectively against the same French Polynesian opponent in the finals of the Cadet and Junior grades.
After Auckland, Watson will depart on August 1 for seven weeks of training and conditioning in the Netherlands under his mentor Grim Vuijsters, the fourth dan black belt.
He will then fly to Sydney on September 18 and meet up with his family, who will watch the 2018 Sydney International tournament, with Watson again entering three divisions.
Ross Watson said depending on the results from these tournaments and then the national championships later in September, his son could also be selected for the New Zealand team in November which is heading to back-to-back tournaments in the Perth Open and the Perth Oceania Open, another IJF ranking events.
"Regardless of this selection, Keightley then flies back to the Netherlands, this time with a New Zealand team of up to eight, for training back with Grim Vuijsters for a further five weeks over the Christmas period."
While in the Netherlands for a white Christmas, Watson will enter the German Open in December, and in January 2019 will go back to the Matsura Dutch Open Espoir, where he won gold earlier this year in the Cadets +90kg.
By Staff Reporter
Wanganui Chronicle 9/7/18