Local trio tackle Aussies in Cup
09 May 2018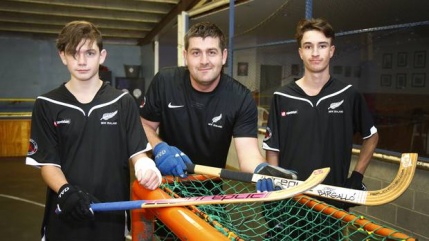 Whanganui skaters Brodie Hurndell, Carlin Barry and Jimi Blinkhorne are aiming to even the score for New Zealand in the Tans-Tasman Cup roller hockey test match with Austraila in Queensland this week.
PHOTO / Bevan Conley
Three Whanganui skaters are in the New Zealand line-up to help even the score in the biennial Trans-Tasman Cup test series with Australia later this week.
The three test series is being played in Gympie, Queensland this year with four grades competing - under-17, senior men, masters and veterans.
Under17 national coach Carlin Barry, who also plays for the senior men, is joined by fellow Whanganui skaters Jimi Blinkhorne and Brodie Hurndell, both Whanganui High School students.
Blinkhorne is the under-17 captain, but has also gained selection to the senior men's team, while Hurndell is sporting a possible fractured wrist and unlikely to see game time with the under-17 side.
"Brodie is unlikely to play, but had already booked and paid for his tickets, so he'll probably be the orange boy," Barry said.
"Jimi is an old hand having played in the under-17 team since the Trans-Tasman Cup began a couple of years ago. The test series used to be an annual event, but has just changed to biennial because of the world championships next year.
"Jimi's form and performances at our trails in New Plymouth were good enough for him to be selected for the senior men's team too. He probably doesn't think he's going to get much game time with the men, but I think he will get far more than he thinks."
Barry said there was fortunately several hours between the different grade match-ups allowing Blinkhorne recovery time.
"It will also be good for me and give me time to get my head around coaching the kids, while also playing for the seniors.
"The Aussies are probably one ahead of us in the under-17, men and veteran grades, although we are very evenly matched, while our masters have a clean winning record over them," Barry said.
The New Zealand teams flew out of Wellington early this morning with games scheduled for Thursday, Friday and Saturday.
By Iain Hyndman
Wanganui Chronicle 9/5/18