Sky (Tower's) the limit!
12 September 2018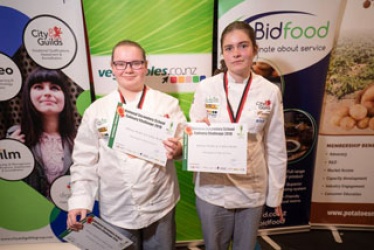 Britney Walsh (right) and Caitlyn Butlin represented Whanganui and Taranaki on 4 September at the National Secondary School's Culinary Challenge winning BRONZE!
They had to prepare 4 entrées and 4 main dishes in 90 minutes in a fierce competition with teams coming from all over NZ.
They took out a bronze medal but as part of their prize package they were treated to a sumptuous dinner at Manukau Institute of Technology, a tour of Fresh Growers wholesale fruit and vegetable business, cheese tasting, lunch at Spice Alley, a new restaurant in the Sky City complex where they met with Charlotte Taylor, one of High School's previous winners and an now apprentice chef at Sky City.
The day finished with a tour around Sky City culminating in the Orbit 360 restaurant.
Mrs L Hardcastle
Head of Food Technology