2019 Patillo Whanganui Arts Review results!
09 March 2019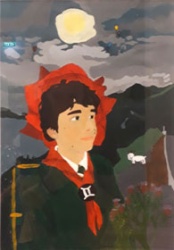 The Visual Art Department had another PROUD evening last night at the '2019 patillo Whanganui Arts Review'.
A massive congratulations to ROSE HIRD (Year 11) who clai
med the WHANGANUI DISTRICT COUNCIL YOUTH COMMITTEE YOUTH RECOGNITION AWARD for her painting called 'ROHI'!!
(3rd year in a row for WHS!)
The Judge also gave a special mention to Jack Burrows (Year 13) for his 'Moutoa Soldier' photo AND to 2018's Female Art Duxium, Lily Claypole, for her photo 'Plastic'.
It takes a lot of courage to create work and put it out into the world for judging and it's not an easy feat to even be accepted into this prestigious event, so congratulations also go to; Tiana Absolum (Year 13), Mikayla Baldwin (Year 13, 2018), Maia Falkner (Year 13), Grace Swanston (Year 12), Madeleine Thompson (Year 13), Victoria Whibley (Year 13), Freyja Wrigglesworth (Year 10) and all of our Visual Art Teachers- Kaye Coombs, Graham Hall, Glen Hutchins and Catherine Sleyer- Miss Sleyer also claimed a Merit Award!
The following images are not the best representations of the works..
Support our Visual Arts community by paying the exhibition a visit at the Sarjeant Art Gallery on Taupo Quay - until Sunday 12 May 2019.
Visual Arts Department
Whanganui High School