Big turnout for Whanganui's Christmas race day
Enjoying Whanganui's big race day are former WHS students' Rose Wainhouse, Aleisha Rainey, Josh Rainey, James Dorgan and Sarah McDonald.
It was horses not reindeer at Whanganui racecourse on Saturday, but the festive spirit was still pumping.
The annual Christmas at the Races meeting - Whanganui's biggest race day of the year - proved more popular than ever, with almost 4000 people enjoying the event.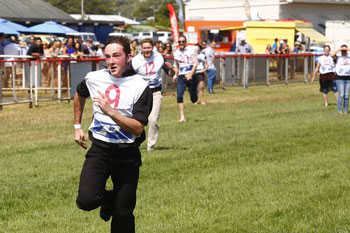 Clear of the field: It was two legs not four for the relay race, and former WHS student Cameron Severinsen was a clear winner.
In glorious sunshine, punters enjoyed a flutter, and families enjoyed the fun in a memorable meeting.
The feature race, the Cambridge Thoroughbred Lodge Wanganui Cup, was taken out by All In Vogue, with Leah Hemi a class act in the saddle and owners Peter and Min McDonald enjoying another big win - this one worth $50,000.
Mark Dawson
Editor of the Wanganui Chronicle 4/12/17