DUX ARTIUM 2017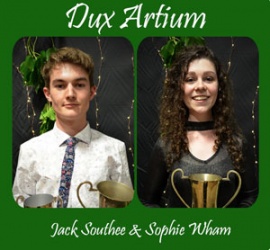 Congratulations to our Whanganui High School 'Male and Female DUX ARTIUM' for 2017:
JACK SOUTHEE & SOPHIE WHAM

Congratulations also to:
Toka Poa
Principals Cup for Excellence in the Arts
Solomone Tamaniyaga




WHS Cup for

Outstanding Leadership in the Cultural Life of the School
Brianna Kirk

WHS Cup for

Outstanding Service to the Cultural Life of the School
Jack Southee
The Brown Family Cup for Co-Curricular Involvement in the Cultural Life of the School
The Visual and Performing Arts Departments ended the year on a high note! 'A world of Stars' was the theme for a wonderful night at the Royal Wanganui Opera House, celebrating the successes, and contributions students have made.
Internationally acclaimed poet Leonel Alvarado was in the house, a prominent Latin American poet. He has written award-winning collections of poems in both Spanish and English, and was runner-up in the Casa de las Americas Prize which is Latin America's equivalent of Britain's Booker Prize or the United States Pulitzer Prize.
Earlier this year, Whanganui High School was proud to be involved in a collaboration with Latin American singer/songwriter, Emmy-winning, Rómulo Castro. While here, he was impressed with the strength and pride he saw among young people of the Whanganui River, and leapt at the chance to return a month later to work with us on a song he had written, which talks about sharing stories between his country and ours.
The song, called El Sur que Soy / The South that I Am, was presented to the audience. You can find it on YouTube! We are now world famous!!
Also in the house, as guest performers, were "Drones" Three ex WHS students - Isaac Chamberlain, Ethan Coleman and Adam Robinson perform in this nationally acclaimed heavy rock band and they certainly got the house rockin' – you can view the selfie with our audience on their facebook page
The night also belonged to the Cultural prefects who did a stunning job presenting the awards and setting the scene with amass of ivy, fairy lights and giant globes.
By Jeanette Jones
TIC Music