Fire burns within as Musa commits
06 March 2019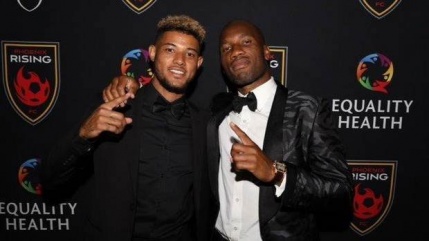 Expat Whanganui footballer James Musa reunites with his Phoenix Rising boss, the legendary Chelsea and Ivory Coast striker Didier Drogba after resigning with the Arizona team for the 2019 season.

Photo / Supplied
Whanganui football export and former WHS student, James Musa has signed again with the Phoenix Rising Football Club in Arizona.
The New Zealand international has returned to the club for the 2019 season and and per club policy, the details of the contract will not be made public.
"I am delighted to be coming back to Phoenix in 2019 to build on the success we had in 2018," Musa said in an in-house article by Phoenix Rising Communications.
"I can't wait to link up with my new and old teammates and get to work to achieve our goal of bringing back two trophies in 2019.
"The club epitomizes what a top franchise in USL should look like. Not just from the player's standpoint but the ownership, coaches, front office and of course the fans are all amazing. It's an exciting time for football fans in Phoenix and 2019 is only going to be better!"
Musa signed with the club on March 1, last season and logged 2126 minutes in 26 appearances with the club.
He finished the season top 10 in minutes played for the club while notching one assist and 15 key passes during the 2018 campaign.
Musa missed the 2018 USL Cup playoffs due to a lower-body injury.
Over the course of his career, Musa has played professionally in Australia, New Zealand, England, and the United States.
In 2015, Musa made his first USL appearance with Saint Louis FC, appearing in 54 matches over the 2015 and 2016 seasons, which included a brief spell in between seasons on loan with Team Wellington.
Internationally, Musa has appeared with the U20, U23, and senior national squads for New Zealand. He's appeared in the 2011 FIFA U20 World Cup and the 2012 Summer Olympics in addition to three caps with the senior national team. His most recent appearance came in September.
He played 26 minutes in a 6-1 first-leg victory over Solomon Islands in the OFC Final Playoff. He played 13 minutes in a 2-2 second-leg draw as New Zealand won the tie 8-3 on aggregate to advance to November's World Cup playoff.
Musa is the first player announced for the 2019 Phoenix Rising roster.
Phoenix Rising FC is the highest-level professional soccer franchise in Arizona's history.
The club is owned by legendary Chelsea and Ivory Coast striker, Didier Drogba, Advantage Sports Union CEO, Alex Zheng, Executive Chairman of Kona Grill, Berke Bakay, and an impressive collection of business leaders and international celebrities.
By Iain Hyndman
Whanganui Chronicle 6/3/19