Four Whanganui girls in Manawatu team
07 June 2018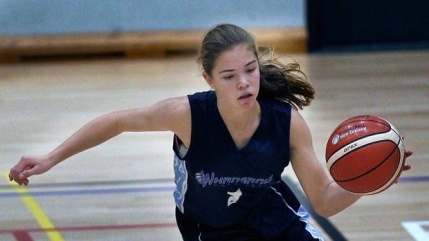 Paris Munro has won a spot in the Manawatu team alongside three fellow Whanganui girls to compete at the Aon National U15 Basketball Tournament in Auckland in July.
PHOTO / Stuart Munro
Four Whanganui players have been named in the Manawatu representative girls team to compete at the Aon U15 National basketball Tournement in Auckland in late July.
Whanganui High School students Paris Munro and Levani Pari join Cullinane's Awatere McLean-Wanoa and Whanganui-born and raised Keisha Maniapoto, who attends Manukura, a special character sporting school based at Massey University in Palmerston North, in the U15 side.
All four have represented Manawatu at age group level, although Munro last represented the province in 2016 in the U13 grade.
Coach, Whanganui-based Mel Maniapoto said her daughter Keisha, McLean-Wanoa and Pari had played consistently for Manawatu for the past three years beginning when there was no representative age group team up and running at their level in Whanganui.
Fourteen-year-old Munro won her spot in the Manawatu team after sterling performances for Whanganui at the Central Zone Qualifiying rounds in Hakes Bay over Queen's Birthday Weekend.
Manawatu finished 15th equal with Auckland at last year's U15 National Tournament in Dunedin.
"We have a different team this year with different mindsets and we are aiming at a top 10 finish at least this season," Mel Maniapoto said.
"I decided to bring Paris into the team after watching her for play for Whanganui at the Central Zone Qualifiers at the weekend. She has played for Manawatu age group level before and the other girls have been representing the province for the past three years running, including last weekend.
"The nationals involve a different level of basketball. It's far quicker and teams have strong skills, but we have increased our training sessions from twice a week to six to prepare."
By Iain Hyndman
Wanganui Chronicle 7/6/18