Let's back Jessica for Miss World
30 November 2018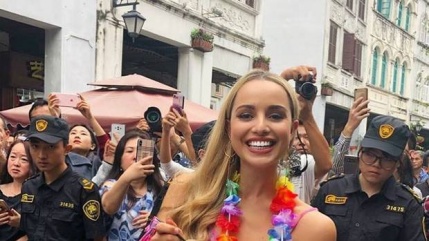 Miss World New Zealand makes friends on a visit to Old Town Hainan in China.
Photo / Supplied
Jessica Tyson (former WHS student) sends love to her hometown Whanganui from the Miss World pageant in China.
Tyson is vying for the Miss World title with 117 international contestants and says she is making some "wonderful new friends" among her competitors and the locals she has met.
"I'm so excited to be here and represent our beautiful country. It's been a huge dream of mine to come here so I'm living my dream," she says.
The 25-year-old Māori Television reporter and presenter made the top 30 in the Top Model competition at the pageant.
"Being chosen was such a huge honour for me because I know how difficult it is to place in this section, considering there were 120 stunning girls who hit the runway during the show."
She is now calling on her hometown supporters to vote for her in the Multimedia Head to Head contest.
As part of the challenge, Tyson gave a TV interview and spoke about why she's proud of her Māori culture.
"In New Zealand, there is sometimes a negative perception about indigenous people and so being able to use my voice to showcase people in a positive light is so rewarding and being able to showcase the wonderful things that they are doing," she said.
"Back home we have doctors who are creating groundbreaking research to help thousands of people within our communities.
"We have sportswomen and sportsmen winning top international awards overseas.
"We have so many people within our communities creating small community projects who may be helping people struggling, who may be homeless for example, and so being able to use my voice to raise awareness on this creates so much positivity within my country."
Supporters can vote for Tyson by liking her Jessica Tyson - Miss World New Zealand 2018 Facebook page before voting closes at 10pm, Friday November 30, NZ time.
The Miss World final will be held in Sanya City, China on December 8.
By Liz Wylie
Whanganui Chronicle 30/11/18