REBECCA BAKER - GOLD Medal... #1 in NZ at Jnr Girls 1500mtr!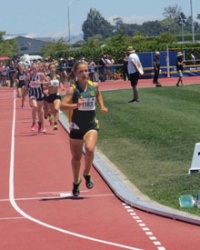 Woohoo!!!!
REBECCA BAKER....... you star

⭐️


GOLD MEDAL.... #1 in NZ for Junior Girls 1500 mtr run at the NZSS Athletic Champs!
Amazing result..... well done!

Watch our Superstar Rebecca Baker easily win the Junior Girls 1500 mtr final at the NZSS Athletic Champs!!
Way to go Rebecca !!!!
The New Zealand Secondary Schools Junior Girls 1500m was won convincingly by Rebecca Baker from Whanganui High School in a time of 4.38
By Lisa Murphy
WHS Director of Sport


New kids on the block
The re-emergence of Whanganui High school as an athletics school continued over the weekend at the NZ secondary school athletics champs in Hastings. High school secured their first GOLD medal performance in many years with Rebecca Baker decisively winning the junior girls 1500mtr title and running the fastest time, junior or senior at the meet. Baker later came back to lead her team to 5th place in the junior girls 4x400mtrs relay.
She was ably backed up by a team of 14 other athletes who all performed well with two other finalists in Travis Baylor who ran outstandingly well over the weekend to make the quarter finals of the senior boys 200mtrs and then finish 6th in the 400mtrs in a huge personal best of 50.99 and Sophie Andrews throwing PBs to finish 6th in the Hammer and 12th in the shot putt.
Other athletes to make it to the later rounds were Ethan Cox in the quarter finals of the 100mtrs and semi-finals of 200mtrs junior boys, Jakob Moorhouse semi-finals junior boys 400mtrs and Jordan Cohen quarter finals of senior boys 200mtrs, who all impressed as future sprinting talents. Plus, there many personal bests from other junior athletes.
Almost all the athletes are part of high schools recently developed pathway program that is designed to give students from any sports background the opportunity to perform and with the majority being Yr 11 or younger the future looks bright for these and other athletes.
The athletes and their coach Greg Fromont now look forward to joining the other Whanganui secondary schools as part of the Whanganui region team to contest the North Island secondary school athletics on home soil in Whanganui at the start of April.
By Greg Fromont
WHS Sports Development Coach