Show of strength from Top Gym
15 May 2018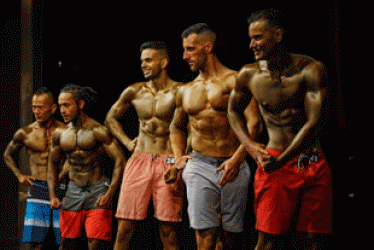 Lining up for the men's board shorts competition were, from left, Han Tran, Manish Pande, Shivain Sethi, Joel Ashworth (former student), and Sean Hoeflich.
PHOTO / Lewis Gardner
After six years of trying, Revitalise Natural Health & Fitness Centre has the trophy they have always coveted after receiving the pretigious Top Gym prize at the NABBA Manawatu/Wanganui Bodybuilding Championships on Saturday night.
Claiming several section awards and one overall prize among the around 30 competitors on the night, the Revitalise team's collective points were the most out of the other gyms who sent competitors to the Royal Wanganui Opera House.
After just missing out last year and not being confident of a trophy win in 2018, due to putting up so many first-time competitors, the Top Gym prize was a great relief for Revitalise trainer Audrey O'Keefe.
"It's been too darn long," she said.
"The year I didn't expect it, and we won.
"I'm a very proud mother hen."
The crown jewel for Revitalise was Michaela Sullenberger (former student), who won the most competitive division in the Women's Novice Shape, going up against seven other entries.
Then competing with the Open Shape entrant, Sullenberger was again judged the overall best to claim the Ms Manawatu/Wanganui Shape crown.
Sullenberger had started off the afternoon judging session teaming with clubmate Kyle O'Keefe (former student) to come runnerup in the Mixed Pairs competition.
It completes a great year of preparation for Sullenberger, who came third in the Novice Shape last year but had only recently come back into the sport after giving birth.
On two months training, Kyle O'Keefe was going to win his Junior Men class, as was Revitalise's Taihape member Fiona Blyth, following six months getting ready for the Open Physique Women Short.
Carl Bond (former student) claimed his Novice Physique Men Short Grade.
Of the non-Revitalise local competitors to do well, Joseph Panui (WHS student) was second in the Teenage Men grade, competing at the same time as Kyle O'Keefe, while Wellington-based Joel Ashworth won the Mr Body-Board Shorts Novice crown.
After the afternoon judging, the winners were announced during the Saturday evening show part of the event, which Audrey O'Keeffe said was a reasonably good crowd, although smaller as they were having to compete against events like 'The Come Up' boxing show being held at the same time.
O'Keeffe said all of her competitors handled the pressure well.
"They were all feeling chilled. I must admit, they were a relaxed bunch."
The atmosphere backstage helped, with the veterans of competition giving support to the others.
"For some of the newbies, if you've got a competitor who is chill, it helps," said O'Keeffe.
"They were all really, really great.
"It was a really nice show – because it was smaller, it was easier. Everything went like clockwork."
After months of specific dieting and avoiding tempting foods, O'Keeffe took her team out to celebrate at the Rutland Arms, one of the event sponsors, where she admits there were a few "nachos and wedges" consumed.
She also had it on good authority that some of the team made a sly visit to KFC on Sunday.
"I'm a tough boss, they've back on track now."
Sullenberger, Blyth and Kyle O'Keeffe have to get back in training for the NABBA Hawke's Bay Championships, being held in Taradale on July 7.
By Jared Smith
Wanganui Chronicle 15/5/18