Teen sensation Blinkhorne makes senior men's squad
28 March 2018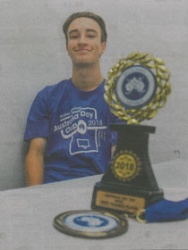 Whanganui teenage roller hockey sensation Jimi Blinkhorne is named in the New Zealand senior men's team to play Australia in a three test series in Queensland in May.
Globetrotting Whanganui teenager Jimi Blinkhorne has achieved yet another medium term goal after gaining selection to the New Zealand Senior Men's Roller Hockey team to play Australia in May.
The 16-year-old Whanganui High School student has not long returned from back-to-back gold in Melbourne at the Australia Day Cup national club championships after reuniting with the Mordialloc under-17 side.
The same side, with Blinkhorne again at the wheel, won last year's title after an unbeaten run and repeated the dose again in Dandenong in Melbourne.
During the same tournament in January, Blinkhorne also rolled out for the Melbourne-based Mordialloc club's number three senior team.
Playing in blistering hot conditions, Blinkhorne didn't miss a beat scoring in every under-17 division match to win gold.
However, the icing on the cake was when he was named MVP (Most Valuable Player) in the senior division.
His selection to the Kiwi senior men's side means he will be again taking on the Australians in a three test series in Gympie, Queensland in May.
He will be in action at the Whanganui Roller Hockey Tournament over Easter Weekend.
Mr Iain Hyndman
Wanganui Chronicle 28/3/18