Some classy running by Baker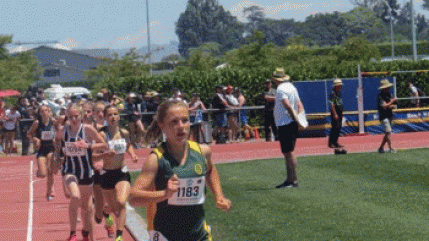 A win in the junior girls' 1500m by Rebecca Baker puts Whanganui High School in the frame at the NZ Secondary Schools champs in Hawkes Bay over the weekend.
Whanganui athletes performed to new heights at the New Zealand Secondary Schools Track and Field and Road Race Championships in Hastings at the weekend.
Classy runner Rebecca Baker secured Whanganui High School's first gold medal in many years at this level after decisively winning the junior girls' 1500-metre even clocking the fastest time of both the junior and senior girls.
Baker came with a whirlwind final sprint to set an impressive personal best of 4:38.96.
This was a six second improvement on her personal best and five seconds ahead of the second placed Jemima Antoniazzi from St Peters School.
Baker then returned to the track to lead team into fifth place in the junior girls' 4x400m relay.
Wanganui Collegiate School athletes, however, returned home with the school's best ever medal haul with six gold, six silver and four bronze.
WCS' Liam Back won the junior boys' 1500m to claim his first major track title.
Genna Maples shone winning the junior girls' 100m dash in a personal best time of 12.07 seconds, beating Canterbury rival Maria Broughton by six one hundredths of a second - this was reversed in the 200 metres later in the day.
Maples also won the long jump with an opening 5.42m effort in the first round allowing her the luxury of sitting out the remaining rounds and preserving energy for the remaining events. Maples ran in both winning relay teams for WCS alongside Tayla Brunger, Georgia Matson and Emma Osborne in the 4x100m and Brunger, Ana Brabyn and Osborne in the 4x400m.
Osborne won the 400 metres junior title with an impressive performance clocking 56.57, which was not only faster than the senior winner but also set a Collegiate School record.
She was selected as a member of the New Zealand Schools paper team, one of only two juniors named.
By Iain Hyndman
Wanganui Chronicle 6/12/17