WHS claim schoolboys T20 crown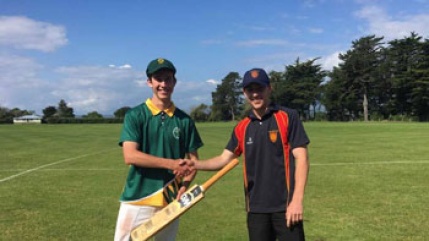 WHS skipper Quinn Mailman receives the Ross Taylor Trophy bat from Hawera High School's Shaun Fowler after winning it on Wednesday.
Whanganui High School 1st XI won the Ross Taylor trophy as part of the Central Districts secondary schools Twenty20 championship at Victoria Park on Wednesday.


The school team had reached the semifinal stage by winning the local T20 competition, with the playoffs moved to Term 4 after weather forced the postponement in March this year.
WHS met defending champions Hawera High School in the first game and won a thriller off the final delivery.
They started well by restricting a talented Hawera top order, but the batsmen fought back to set a competitive 120 from their 20 overs.
Jack Donaldson (2-15), Tim Roebuck (0-11) and Cameron Mackintosh (1-17) were the pick of the bowlers, assisted by some excellent catching.
In reply, WHS lost early wickets to put them on the back foot, before Cameron Mackintosh and skipper Quinn Mailman consolidated the innings and then picked it up with some big hitting.
Hawera snared the crucial wicket of Mailman for 25, however Mackintosh continued to anchor the innings until he was finally out in the final over for a fantastic 62.
With four balls remaining and five runs required, Thomas Friedel calmly stepped up and hit consecutive boundaries to secure a hard fought win.
WHS then moved onto the final to meet consistent Feilding Agricultural High School, who had progressed after defeating Waiopehu College.
Some tight, fast bowling from Tim Roebuck snared the early breakthrough.
WHS continued to mount pressure and captured wickets consistently throughout the innings, until the FAHS tailenders were able to add some valuable runs before they were bowled out FAHS for 91.
Again, Roebuck (1-18) and Donaldson (3-6) were the best, along with Mailman (2-16).
After WHS lost an early wicket, Donaldson joined the reliable Mackintosh, with the pair proceeding to play some classic shots around the ground.
FAHS tried several different bowlers but they just couldn't make the crucial breakthrough.
Mackintosh made 48 not out and Jack Donaldson contributed 32 not out as they knocked off the target required in the 16th over to win the Ross Taylor trophy for the second time.
This completes WHS 1st XI's cricket commitments for the 2017 half of the summer, unbeaten in their four Term 4 games, while they narrowly missed out on the final of the Wanganui Chronicle secondary schools tournament due to net run-rate calculations.
The side was coached by legendary former Wanganui representative player and coach Eric Head.
The current pathway is for junior's to make the 1st XI, and then stronger players to move on to the St Johns Tech Cricket club.

By Staff Reporter
Wanganui Chronicle 4/11/17