MAORI DUX 2018
01 November 2018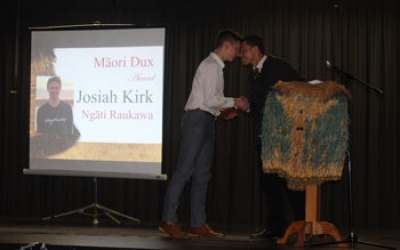 Congratulations to our Whanganui High School Māori Dux for 2018:
JOSIAH KIRK
This year marked the 12th year celebration for our annual Māori awards evening on Thursday 1 November. A special occasion for a number of reasons.
Firstly we we celebrated the long service of a very special Nana to our students Diane Calman as she looks to make her graceful exit to become a lady of leisure in 2019. Nana Di has spent nearing 2 decades now at WHS and has been a strong supporter of all things Māori within her time. She was presented with a moving speech by past Head of the Māori department, Marama Allen who took time out of her very busy schedule to present this honour. She was gifted a beautiful caped Korowai by the department only a small recognition of the Aroha we have received from her over the many years.
We were also honoured to have had past head girl Leigh Marama Mclachlan, a successful journalist who is currently the Māori news correspondent at Radio NZ return to give a thought provoking speech about her time at WHS and her experience being Māori. She spoke from the heart and this was hugely moving for all in the crowd. We appreciated her taking the time out of her busy schedule to return home to be with us.
This year was also special in that it was the first time our speaker at Nga Manu Korero won both the Regional and National titles for the Junior English section a huge honour for our department and the wider school but particularly for her whanau as she was the 3rd recipient to receive this taonga in her family. Sophia 'Unga-Cribb was recognised for her efforts alongside her whānau.
The Māori Heads did an awesome job presenting throughout the night and made for a humorous evening.
Kia Whaiora Kapa Haka Roopu returned to the stage and entertained the crowd during kai.
The prestigious awards for the evening went to:
Josiah Kirk - Māori Dux for 2018
Tokararangi Poa - Alison Gernhoefer Taonga
Leighton Kotuhi-Brown - Marewa Ki Te Rangi Taonga for Head of Māori female
Wiremu Rogan - Kereoma Puru Taonga for Head of Māori male

This year was extra special in that our Whaea Cherie and whānau were blessed with a beautiful baby girl. The first recipient for the Marewa Ki Te Rangi Taonga was Keita Puru whom gave birth to Marewa Kiterangi Waimarie on the 30th of October.
A beautiful evening overall and we wish all of our student the very best for the year ahead.
Nga mihi!!
Riria Henry
Head of Te Reo Māori
(WHS Māori Awards 2018 photos courtesy of Y12 student, Shanice Campbell)