A dog walk for charity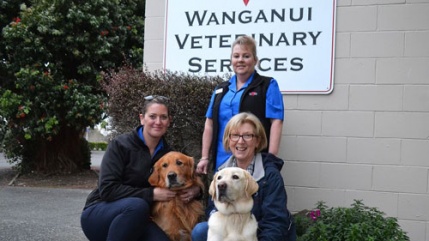 FUNDRAISERS: Ready for the walk this Saturday are (from left) Tui Gower with Abbott, Suzan Timms-Lees standing and Sandy McAllen with Vera.
PICTURE / PAUL BROOKS
This Saturday, dogs and their owners can take a walk, all in the name of Guide Dog assistance.
Wanganui Veterinary Services on Somme Pde has organised a fun walk around the bridges, just you and your dog or dogs ... and- as many other humans and dogs as possible.
The entry fee of $5 per dog supports the fundraising of Sandy McAllen who is competing in the Auckland Half-Marathon to raise money for the Blind Foundation Guide Dogs.
Organiser Tui Gower says the route takes people and dogs from Wanganui Veterinary Services on Somme Parade on a loop via the Town Bridge and Dublin Street Bridge, ending at the starting point, where there will be all the fun of the finish line.
"We're supporting a local person, Sandy, and the Guide Dogs," she says. "Registration is from 10am on Saturday and we'll start the walk just after 11am. We'll have a sausage sizzle and we'll have raffles, spot prizes from sponsors. We'll try to keep it simple and effective." There will be a coffee trailer on site as well.
As far as Tui is concerned it will be a family affair. She'll be walking, as will her sons, and her husband David will be manning the barbecue, she says. They have about 15 working dogs and three pet dogs on their farm so it shouldn't be hard to find a walking companion.
Tui has been assisted in the organisation of the walk by vet nurse Suzan Timms-Lees.
Sandy McAllen is lucky enough to be the care-giver of Abbott, a good-natured golden retriever, a fully qualified stud dog for the Guide Dogs.
"I was a volunteer for about seven years with the Blind Foundation Guide Dogs before we were asked to be puppy walkers for Abbott," she says.
Sandy and husband Martin looked after Guide Dog trainee puppies, like Vera, a yellow labrador which had a career change and is now a valued McAllen pet.
They looked after Abbott, at first temporarily, then, after he completed his breeding dog programme, permanently as guardians. Abbott is five years old.
"Taking him on an ambassadorial type role, as we have here, is quite new," says Sandy. Abbott seemed to be enjoying it, particularly the edible treats.
As a guide dog, Abbott has special privileges, including being allowed to fly on a plane.
"When I was teaching he would come with me to MOE conferences," says Sandy. "He would get his own seat and he's allowed in the hotel."
When he's needed in Auckland to do what he's trained for, he will fly there from Whanganui.
Abbott, like all guide dogs, is trained to lead the way so it was he who barged through the doors first on the way outside to get a photo.
Tui says there will also be Guide Dog merchandise, including soft toys and capes available for sale on Saturday. Proceeds will go to the Guide Dogs.
Sandy is in training for the half-marathon and will often take Abbott with her.
She competed in the Adra Half-Marathon in Auckland a few years ago.
By Paul Brooks
Wanganui Midweek 12/7/17