City farewells Jake Alabaster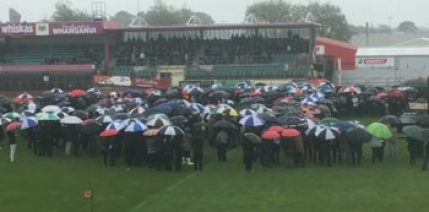 Mouners gather in their hundreds at Cooks Gardens on Friday 6 October to pay their respects to Jake Mitchell Alabaster, Saturday 17 April 1993 - Saturday 30 September 2017.
PHOTOS / Stuart Munro
Jake Mitchell Alabaster was brought onto the Cooks Gardens rugby field one final time in front of his biggest crowd yesterday afternoon.
More than 1000 guests either stood or sat on chairs on the rain-soaked field, or watched from the grandstands, in an emotional funeral service for the 24-year-old Wanganui representative, who died in his sleep last Saturday.
The WRFU prepared the field as if it was a rugby match, while the scoreboard printed up a farewell message and a large video screen was brought in to display pictures of Alabaster's life with friends and family.
Alabaster's casket, covered in handwritten farewell messages with a chainsaw placed on top, was carried onto the field to the song Bad to the Bone by George Thorogood and the Destroyers - an Alabaster favourite.
Following the service, the body was taken for a private family cremation and burial at Aramoho Cemetery.
"Jake Alabaster would have been proud and delighted that so many of you have turned out to honour his 24 years of life," said Grant McKinnon, who officiated the ceremony.
"As a flanker, he would have looked out and said, 'sh*tty weather, let's get on with it'."
Born in Whanganui, Alabaster attended Mosston School then Whanganui Intermediate and Whanganui High School.
Initially a soccer player, he switched to rugby and played for every Wanganui age-grade representative team from Under 11 to Under 20, making the Under 20 team while still 17 and before captaining the Under 18's, and then making the Wanganui Development XV.
He came through the ranks of the Marist club after leaving WHS early - playing for the Buffalos and Celtic before making the Marist Premier side.
Switching to the Border club, Alabaster's final game of rugby was on Cooks Gardens when the Waverley club won the 2016 Premier final.
An outdoors man, Alabaster loved boating, wakeboarding, fishing, hunting and snowboarding.
Mother Cheryll was joined by son Kane and daughter Roxanne on the stage and read several well-known verses and poems in tribute to her son, including You are my Sunshine.
"Love and respect, my sunshine, my baby boy. Fly high and visit me in my dreams."
Kane Alabaster said his brother reached out to people wherever he went.
"I love you and I'll miss you and I'll cherish the moments we spent together for the rest of my life.
"I have lost a brother but gained an angel and for that I am thankful."
Representing the rugby community, former Border coach Ross Williams spoke of a determined player loved by his team mates - recalling the story of Alabaster playing his Wanganui senior debut last year against the Manawatu Evergreens with a busted shoulder.
The young man stood his ground on one high kick and took the ball despite being smashed by a charging 120kg opponent.
"The thud of hitting the ground silenced everyone...and Jake loved it," said Williams.
"Jake Alabaster was relentless and uncompromising on the rugby field.
"Rugby is not just a game, it's a family, and we all stand in shock and sadness in the loss of our mate Jake."
Former forestry employer John Reid recalled a phone call in 2011 recommending a young man "with a good handshake and spark in his eye", who would work for him part-time while playing for the Whanganui High School 1st XV.
Leaving school and going on to earn three national certificates, Alabaster proved to be a reliable cable logging worker, in all weather up in the hills.
"Jake was our brother," said Reid.
"Whenever the rain washes away my tears, I will remember this man."
Best friends Dylan Pearce and Hamish Palmer, who also spoke on behalf of his sister and Alabaster's partner Georgia Palmer, remembered a mate who had been a tearaway in his youth, but at his heart was a gentle giant.
As the life of the party, there had been the odd police callout for a prank gone wrong and fun bike rides after siphoning from bottles in the family liquor cabinet.
"You have given us a hell of a ride for 24 years, there was never a dull moment," said Hamish Palmer.
Alabaster later moved into the Palmer household and matured greatly, which pleased Hamish after he had begun dating Georgia.
"A brother to me, and a son to the old man."
Pearce spoke of his delight when Alabaster came back from overseas and wanted to work in his family beekeeping business, getting ready to set up his future.
"No mountain was ever too high for you, and if it was, I'm sure you would just run through the middle anyway."
It had been a privilege for Pearce to deliver Alabaster's body home from Auckland, alongside his other friends, in his ute truck.
After reading the committal, McKinnon invited guests to follow behind the procession carrying the casket up the hill to the function centre in the Cook Gardens grandstand.
Instead, the large assembly formed up on both sides of the pall-bearers and family, creating what amounted to a guard of honour across the field.
Near the end of the line, young players from multiple clubs and schools along with other friends who knew Alabaster the best, stood together and delivered an emotional haka.
"Done him proud, boys," his mother called out to them.
Guests had travelled from Australia and as far away as the United Kingdom for the funeral.
Special commemorative jerseys stitched together from the Marist and Border uniforms have been created and it is understood there will be a memorial prize in Alabaster's name for Premier games between the two clubs, beginning next year.
By Jared Smith
Wanganui Chronicle 7/10/17