First step on trip to the US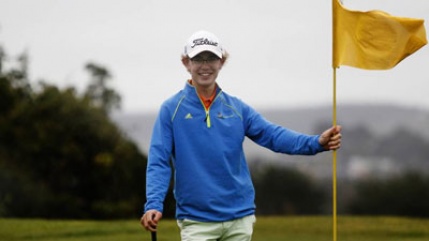 HEADING STATESIDE: Wanganui Golf Club's Fergus Smith (former WHS student) at the start of the club fundraiser round for his big move to university in Iowa, USA.
PHOTO / STUART MUNRO
Wanganui Golf Club's Fergus Smith was the guest of honour at the Friday club round yesterday as his playing partners competed in his honour to assist him on the first step of a long voyage.
The Manawatu-Wanganui junior representative player is leaving in two weeks to take up a position as a student athlete at Iowa Wesleyan University in the United States.
He is latest Whanganui teenager given the opportunity to join an American college to further both an education and his sport.
Smith said Wesleyan, which is located in the town of Mount Pleasant in the northern midwest of the country, is a small school with around 500 students in a overall population of less than 9000 people.
"Which I like. [With] everyone, you learn people's names."
The school is a member of the United States Collegiate Athletic Association (USCAA) - the governing body of a multitude of sports played by America's smaller universities - as well as being a provisional member of the larger National Collegiate Athletic Association (NCAA).
Smith will need to take his playing form with him as when he arrives for the first semester, he will play around eight golf tournaments in the span of 30 days.
After that, the winter snows will arrive, before golf resumes in the second semester.
Smith will be undertaking a degree that revolves around exercise science.
"It ties in with my golf and the understanding or how my swing works."
Despite the rain, yesterday saw the start of a special fundraiser tournament with the proceeds going to help Smith out on his trip.
He was also received help from local community groups, and wanted to acknowledge the gang at the Belmont Links for all their support.
"Thank the Friday club [players] and just the golf club as a whole."
Smith was also grateful for the help of his parents and the coaching by his mentor Peter Cassidy.
By Jared Smith
Wanganui Chronicle 29/7/17