Hockey: Whanganui helps Central to top four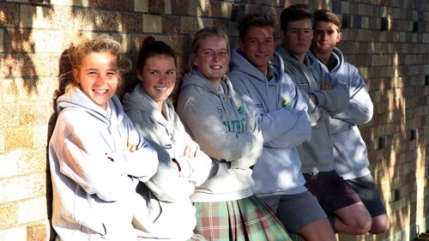 HELPING HAND: Whanganui contingent Rebecca Baker (left), Emma Rainey, Jo Bell, Jordan Cohen, Ryan Gray and Patrick Madder (all students of WHS) help the Central men and women's teams to top for at the U18 nationals in Whangarei.
Both the Central men and women's teams have made the top four of the Vantage Under-18 National Regional Hockey Tournament in Whangarei.
Each of the sides feature three Whanganui High School students, two of whom have made their mark in round one.
The Central women, featuring Whanganui players Emma Rainey, Rebecca Baker and Jo Bell, went through round one pool play unbeaten with youngest player Baker (15) scoring a field goal in the first match against Northland. Central won that encounter 6-1.
The Central women then dealt Midlands a 3-2 beating before drawing 2-2 with Canterbury sending them into a penalty shootout. Central won that 4-3 to remain unbeaten. They now play North Harbour today and Auckland, who is also unbeaten, tomorrow.
Central women finished runners-up in this competition last year after drawing with Auckland and heading to a penalty shootout. Unfortunately, Central lost that encounter.
This year they are coached by Verity Sharland, sister of recently retired Black Stick Kayla Whitelock.
Central Hockey community manager Kathy Norman said the women's team were in a great head space and confident of making to the semi-final and ultimately the final.
"The girls are in a good mood and the boys know what they need to do to advance further - scoring goals is what it's about," Norman said.
Meanwhile, the Central men only just scraped into their semi-final after a penalty shootout following a 1-all draw with Midlands. Whanganui's Ryan Gray scored Central's goal. Other Whanganui players include Jordan Cohen and Patrick Madder.
Midlands won the shootout, but lost to Central on goal differential missing the chance to make the next step up.
Central men won 6-4 against Southland and lost 2-0 to Canterbury in the first two games of competition. Central play unbeaten North Harbour today and Capital tomorrow.
By Iain Hyndman
Wanganui Chronicle 13/7/17