MUSA the man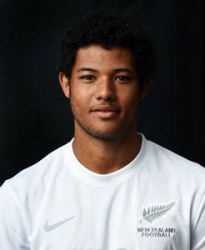 HEADLINER: Former Whanganui footballer and WHS student James Musa makes news in the United States.
Ex-pat Whanganui footballer James Musa has made headline news in the home of his new North American club.
Last month Musa took a major step up in the American scene when he signed with the Major League Soccer (MLS) team, Sporting Kansas City.
Hard on the heels of that signing Musa got his second call-up to the All Whites to replace defender Tommy Smith who was ruled out of the Fifa World Cup Qualifiers against the Solomon Islands with a hamstring injury.
On Tuesday (NZ time) Musa's All White performances and New Zealand's World Cup progess made headline news on the MSL website home page in the United States.
The article reported how "Sporting Kansas City midfielder James Musa collected his third cap for New Zealand in a 13-minute substitute appearance on Tuesday as the All Whites drew 2-2 with the Solomon Islands in the second leg of the OFC Playoff Final at Lawson Tama Stadium in Honiara, Solomon Islands".
It went on to say New Zealand cruised to a 8-3 aggregate victory, having won the first leg 6-1 last Friday, to seal a spot in a two-legged World Cup playoff in November.
The All Whites will face the fifth-place finisher from the South American qualifying region in a home-and-away series, meeting on November 6 and 14 to decide which team will advance to the 2018 FIFA World Cup in Russia next summer.
The article outlined Musa's involvement off the bench.
"Musa, who played 26 minutes in Friday's comprehensive home win, made his second straight cameo off the bench with the score tied 2-2 on Tuesday.
"New Zealand jumped out to a 2-0 lead within the first 20 minutes behind Myer Bevan's strike and an own goal, but the hosts battled back with penalty kicks from Micah Lea'alafa and Henry Fa'arodo in the 28th and 77th minutes, respectively," the article reported.
Then it described how the All Whites would now turn their attention to the World Cup Qualifying picture in South America, where a logjam sees second place and eighth place separated by just five points.
If qualifying ended today, the story reported, New Zealand would face Lionel Messi and 2014 World Cup finalist Argentina in November's playoff.
By Iain Hyndman
Wanganui Chronicle 8/9/17