NYC scholarship boosts Amelia's dance career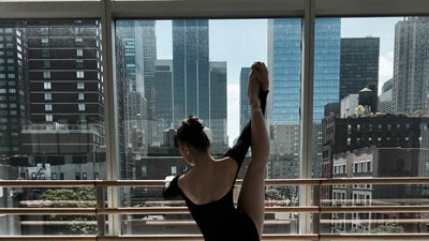 BIG CITY LIFE: Former WHS student Amelia Chandulal-Mackay is settling in to the Alvin Ailey American Dance Theatre in New York where she has been awarded a scholarship.
Photo/ Supplied
Whanganui dancer Amelia Chandulal-Mackay has been awarded an Alvin Ailey American Dance Theatre scholarship.
The 21-year-old Whanganui dancer jetted off to the United States about a month ago to take up an independent study programme.
But that has just become a whole lot cheaper having successfully auditioned to be part of the school's scholarship programme.
The scholarship is worth about $16,000 which covers all the fees.
"So it's saving a huge amount of money for my family which is really good," Amelia says.
"I was very relived actually because it definitely wasn't the best audition I'd done and I actually came out feeling frustrated about it."
The ballet dancer has recently spent six months back in Whanganui after stints in Milwaukee and Orlando.
While home she performed in Maleficent which was produced by the Wanganui Ballet and Dance Academy in April.
Amelia is currently living in the lower east side of Manhattan and was enjoying New York life.
"It's a huge change from Whanganui, obviously. But it's been really exciting, there's so much happening and so many people."
She decided to got back to study at the New York based school to expand her training in contemporary dance.
Alvin Ailey American Dance Theatre has about 3500 students across different divisions.
"I wanted to study more modern and contemporary styles," Amelia says.
"Ballet is the foundation of basically every style. I've had a lot of ballet training but not a lot of modern and contemporary training.
"So I just wanted to get as strong as possible with that."
There is an option audition for further years of scholarship but Amelia would prefer to go back to work for a dance company.
"I don't have preference, I just want a job somewhere. I'm not really fussed about where as long as I'm dancing.
The scholarship starts at the end of August and Amelia will be home for a few days over Christmas.
By Zaryd Wilson
Wanganui Chronicle 29/7/17