Reardon champion in making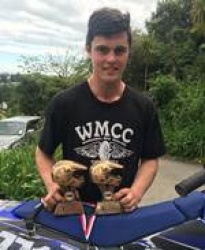 Whanganui's Seth Readon (former WHS student) claimed the Central Enduro Championship under 300cc class, but missed the overall series win by a whisker.
Whanganui has a potential New Zealand champion in the making after Seth Reardon's performances in the Central Enduro Championships that ended at the weekend.
The 19-year-old's second overall at the sixth and final round at Taikorea over the weekend was enough to claim the expert under 300cc class, just missing the overall series title by a mere three points.
The Taikorea track is owned by international ace Paul Whibley and the final day consisted of nine special tests where riders travel as fast as they can through rough terrain and over some challenging obstacles against their rivals and the clock.
Reardon rode solidly throughout the day on his Yamaha 250FX coming second to Whibley on his much larger 450 machine in eight of the nine special tests.
Going into this final round Readon was leading the expert under 300cc class and was coming second overall for the series, trailing Jacob Hyslop of Masterton by 13 points.
The overall second at Taikorea secured him the expert class on the day and he just missed winning the overall series by just three points to Hyslop who only managed a ninth placing on the day.
Championship Series overall results; Jacob Hyslop 90 points, Seth Reardon 87 points and Paul Whibley 70 points (Whibley only rode 3 of the 6 rounds due to overseas commitments.
Reardon has a busy schedule in 2018, he will be competing in both the Central and National Enduro and Cross Country Championships along with local events when able.
He is supported by Dunlop Tyres, EKS Goggles, Maxima Oils and Signs & Engraving Wanganui, new sponsors welcomed.
By Iain Hyndman
Wanganui Chronicle 8/11/17