Young Whanganui pool sharks aim for nationals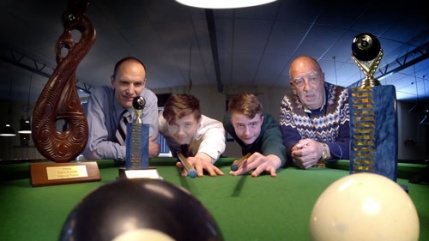 POOL SHARKS: WHS's Nick Staples with player-students Julian Brennan, Owen Parkinson and coach Graeme Couper.
PHOTO / STUART MUNRO

A four-player Whanganui group will be testing their mettle on the green baize of the pool tables in Christchurch this September in pursuit of a national title.
The Pool For School nationals involves the best secondary school players from around the country.
Coach Graeme Couper said previously, local players had to go to New Plymouth to become a regional qualifier for the tournament.
"This year we had so many, they let us have our own identity."
The Whanganui regional qualifier was held last Sunday with 18 starters.
Whanganui High School's Julian Brennan, 16, was the winner, beating schoolmate Owen Parkinson in the final
"The improvement in those kids is quite staggering," said Couper.
"The way they're going, these two boys will be playing for St John's club in the interclub next year."
The two semifinalists Reihana Rekura and Josh Hamilton, from City College, also booked their seats on the plane to Christchurch.
The RSA pool adjunct had come in as sponsors to cover the costs of accommodation and the flights.
The four teenagers will leave the morning of September 6 and return two days later.
"I suspect they're going to get a shock, as there will be some very good players around," said Couper.
The coach said the RSA's Bill and Rose Maddren had to be thanked for looking after the players when they practiced at the RSA clubrooms, while they would also train at St John's Club.
By Jared Smith
Wanganui Chronicle 8/7/17