Equestrian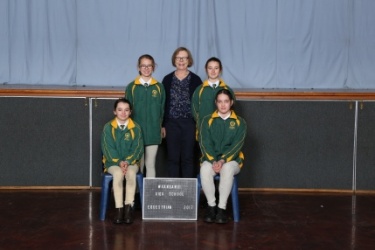 (Photo: Equestrian Team 2017)
Equestrian Team 2019
The team enters up to three interschool events during the 1st, 2nd and 4th terms. Some events are show jumping and some one-day events, with jumps, dressage and games. There are more events available for keen riders.
You need your own horse (or horses) and you must be able to arrange your own transport for these events.
The team has grown to about 10 students (all ages and levels) and the school supplies a limited number of special Whanganui High School saddlecloths. You supply the rest of the gear and the event entry fee (typically $25 per horse).
We have a google classroom, Code is Ogy28r
Upcoming Competitions:
Dannevirke High School Interschool on 27 February - Dressage and Show Jumpimg.
Nga Tawa Equestrian Interschool on 28 March – Show Jumping heights 80, 95, 110cm.
If you do some riding - come along and join the team!
Teacher-in-charge: Mrs V Lawson (lawson.v@whs.ac.nz)