NETBALL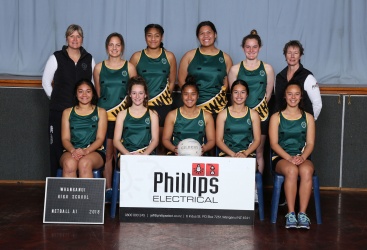 (Photo: Snr A1 Netball Team 2018)
Netball 2019
Grades are: Juniors (Year 9 & 10) and Seniors (Year 11-13)
Senior and Junior trials will be held at the end of Term 1 at the Springvale stadium.
Information will be in the Daily Notices for students.
Competitions are on Saturday afternoon at Laird Park Netball Courts in Peat St.
Uniform - PE top and a black skirt which is purchased from Andersons, in their School Uniform shop at 184 Victoria Avenue, Wanganui (opposite Pita Pit).
Senior A1 & A2 have a uniform supplied to them.
Practice time depends on the coach but is usually after school.
Cost: $100 per player - needs to be paid before 8 May 2019.
Teacher-in-charge: Mrs L Murphy (murphy.l@whs.ac.nz)
Senior A1 Coach: Mrs Lisa Murphy