Tough Teens 2019 - Year 9 & 10
November 28, 2019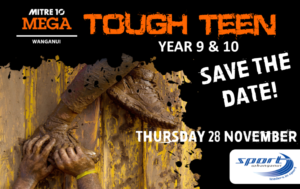 The Wanganui Tough Teens is back again this year for Y9-10 students at Cooks Gardens.
WHS will be taking the 'WHOLE' Y9-10 school to Cooks for the day on Thursday 28 November.
There are two catergories- Competitive & FUN!
If you are keen to compete in the 'tough teens' competitively can you please come to a meeting in Te Ihi Gym (Vogel) at first break today (25/10/19).
There will only be 10 spaces in each age group Y9 girl, Y9 boy, Y10 girl, Y10 boy.
All others will complete the course having fun with their friends...