Liam Wooding performing at 'Musicians for Sarjeant' concert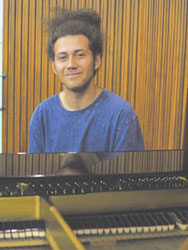 Former WHS student, Liam Wooding performing at 'Musicians for Sarjeant' concert this Sunday.
Liam Wooding is joining with Deborah Wai Kapohe and Ingrid Culliford for a concert at the Sarjeant on the Quay, entitled 'Musical Chairs.' It is on Sunday, January 29 at 4.30pm. It will be a celebration of four years of Musicians for the Sarjeant concerts as well as a public farewell for Liam who is heading off to Melbourne to study at the Australian National Academy in early February. Liam will play the piano, Ingrid the flute and Deborah will do musical chairs by either playing the guitar or singing.
Liam is Whanganui born and bred and describes it as "this is my town." He says "I was always playing the piano but started lessons when I was about seven." It was when he was at year 12 at Whanganui High School that he decided he wanted to take his love and skills for the piano the next step.
That next step has been to complete a Bachelor of Music at Auckland University and then a Post Graduate qualification from Waikato University. In 2015 he went back to High School as a music teacher – but it was only for two terms filling in for someone on sick leave.
He had been performing on a regular basis, most recently as the accompanist for the Opera School. Among the concerts he has given in Auckland, a big one was when he played with the Auckland Philharmonic Orchestra.
The award to study at the Australian National Academy will help him go even further. He won his place out of six finalists. He is provided with a basic living and accommodation allowance but will need to have his own funds to do many of the extras involved. It can be a three year programme but he has to re-apply each year. Currently there are only four students in the piano section. He hopes to return to be based in New Zealand playing concerts for New Zealand audiences.
Tickets for the Sergeant concert are $20 for adults but $15 for friends of the Gallery and Stars. Tickets can be bought from the Sarjeant on the Quay or by phoning 349 0506.
River City Press 26/1/17