Musician gets help to keep it local - December 2015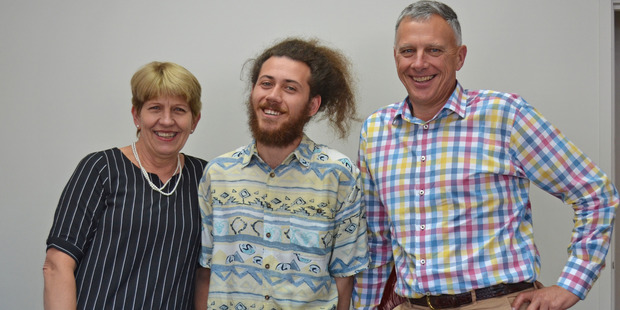 Liam Wooding (centre) with Julie and Stuart Kelly of Kelly and Associates.
Kelly and Associates has a reputation for helping out via the AMP Scholarship programme that assisted worthy people through their national and regional schemes.
This year, with AMP not assisting, Kelly and Associates, the family-owned Whanganui business, stepped up. "You give back to the community that supports you," says Stuart Kelly.
They recently helped Liam Wooding with $2000.
Liam is from Whanganui and is now in Hamilton finishing a post graduate diploma in Music at the University of Waikato and will be starting his Masters degree (in Music) next year. After that?
"In the grand scheme of things it is to acquire the knowledge needed to play the music," says Liam. "It's up to me to find the opportunities for playing and work as a pianist." That could involve work as a concert pianist, accompanying others in a chamber music setting, teaching or doing workshops. "Nowadays we've got to do anything that comes our way."
That includes sourcing funding whenever necessary.
"I approached Kelly and Associates for sponsorship to get to an audition I had in Australia. The first audition was in June, then when I got invited back I asked Stuart and Julie for some money to do the second round audition at the Australian National Academy of Music in Melbourne," says Liam. "I didn't get in so I decided to keep studying in Hamilton."
"It doesn't matter that Liam didn't get in," says Julie Kelly, "Because that's not the concern for us. He can use it for whatever he likes, and here's a guy who comes back to Whanganui and gives, and that's what we really love."
"I had to do that audition and I couldn't have done it without financial help," says Liam.
As well as playing for and with local choirs and musical organisations, Liam is doing fundraisers next year for the Wanganui Chamber Music Society and the Sarjeant Gallery redevelopment.
"I'm helping them grow their Musicians for the Sarjeant series," he says. "We're on the lookout for money to build the programme and increase its profile."
Over the weekend he played for the Wanganui Lyric Singers on Saturday and the Wanganui Music Society on Sunday.
"I'll always work on improving and reaching a higher level, and until I don't have time to, say, help with the accompaniment of the Wanganui Intermediate school choir, then I'll keep doing these things.
"I'm happy to be studying at Waikato; I can come and go here easily, there are some activities in Auckland, some in Tauranga, New Plymouth, here, so it's a good base."
Liam says he will be auditioning for the Kerikeri Piano Competition next year, a biennial event that attracts international adjudicators, and the Christchurch Concerto Competition (again). "I hope I'll always be able to do things here [in Whanganui]."