All against all as WHS houses have first ever quiz war
06 August 2018
Max Verhaaren, Isaac Paterson, Josie Verhaaren, Brylee Atkinson and Evan Ross of Moana got into the house spirit.
PHOTO / Stuart Munro
One hundred teams battled it out at Jubilee Stadium, putting their brains to the test in Whanganui High School's first house quiz.
About 500 students from Awa, Maunga, Moana and Whenua houses combined to take on each other, answering 10 questions from 10 categories with prizes on the line.
The grand prize was a trophy designed by head of technology Craig Adam which incorporates the house names and the meanings behind them.
Whanganui High School prefects Raoul Sarup and Rhea Colaabavala helped to organise last Friday's event.
"The house system's new this year, this was a way that we could incorporate an academic event and get people involved in something that isn't sports," Sarup said.
"It also gets people to work together who potentially wouldn't have worked together otherwise."
Sarup came up with the idea of having a trophy made for the winning team and their house.
"We're hoping that over the years we can add plaques to it and hopefully when we're gone it will carry on for years to come.
"This was a challenge that I wanted to take on. It has been a real group effort and it's a testament to the culture of the school and how well the house system has worked."
Principal Martin McAllen started his tenure at the school last year and was surprised the school did not have a house system in place.
By Jesse King
Wanganui Chronicle 6/8/18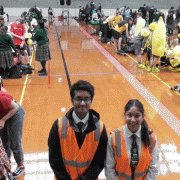 WHS prefects Raoul Sarup & Rhea Colaabavala ensure that the competition runs smoothly. Photo/Stuart Munro.