City a bodybuilding stronghold
11 May 2018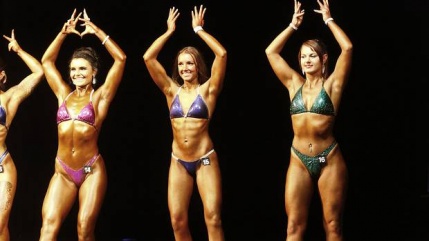 Whanganui's Michaela Sullenberger (former student), centre, competing with Eden McBeth Kibblewhite, left and Nathalie van Weers in the Novice Shape division at the 2017 NABBA Manawatu/ Wanganui/Taranaki championships.
PHOTO / File
Nabba New Zealand's trainer of the year Audrey O'Keefe would love to see her Revitalise Gym team go just a couple of points better to claim a long overdue Top Gym title at the Manawatu/Wanganui Championships tomorrow night.
"Well, why not? We always try, don't we?" she said.
Regionally, the sport of bodybuilding continues to grow and has become the NABBA organisation's stronghold given Palmerston North has been given the hosting rights for the NZ Nationals for the second year in a row this October.
Therefore, the Manawatu/Wanganui championships will also be held again at the Royal Wanganui Opera House to share the tasks of organising and attracting sponsors between the two towns.
"It's excellent, it's good to see so many new people hopping into the sport, that's fantastic," O'Keefe said.
O'Keefe had an outstanding 2017 as she comfortably beat out 140 other trainers to be named trainer of the year, which is based on the points accumulated by the bodybuilders of each coach in their various competitions.
"You're only as good as your team and I've got a bloody good team," she said.
It helped soothed the disappointment of last year's Manawatu/Wanganui/Taranaki regional championships when O'Keefe was "gutted" her team just missed out on winning the prestigious Top Gym award, which is judged on their collective totals, by only 1-2 points.
City Fitness from Palmerston North claimed the crown.
This year's field of 30 competitors is smaller than some previous championships, but O'Keefe is still encouraged because they are mostly new names, suggesting the next generation is here to follow on from several veteran competitors who have stepped away in the past couple of years.
Revitalise Gym should provide most of the local contingent.
Michaela Sullenberger impressed last year when she came third in the Novice Shape division, despite having not long come back for her first competition since giving birth.
"Shape is actually one of the biggest classes, so it's one of the hardest ones," said O'Keefe.
Among her new group of competitors will be son Kyle (former student), who has been preparing for the last two months, along with Carl Bond (former student), known in Wanganui City football circles and Taihape's Fiona Blythe – the latter two have put six months into getting ready.
Expats returning to take part include Auckland's Sasha Bell, nee Crafar, and Wellington-based Joel Ashworth (former student), who will enter the boardshorts grade.
As this is the fourth Nabba event of the year, O'Keefe said some of her regulars are still bulking up to prepare of events later in the season.
She promised even with the lower turnout there will still be some strong performances.
"We've got three really awesome competitors that have been competing overseas."
Both Revitalise and the Human Movements Fitness Centre in Palmerston North have been offering posing practices since February.
Tomorrow the Judging Rounds will be at the Opera House, starting at 12pm and cost $15 to enter.
The evening show where the prize winners will be announced will start at 5pm, and costs $25 entry.
Previous Top Gym winners were
2013: City Fitness (Whanganui); 2014: Rangitikei Active Gym (Marton); 2015: Rangitikei Active Gym (Marton); 2016: Snap Fitness (Palmerston North); 2017: City Fitness (Palmerston North).
By Jared Smith
Wanganui Chronicle 11/5/18