Our Jessica unbeaten in dream debut
08 June 2018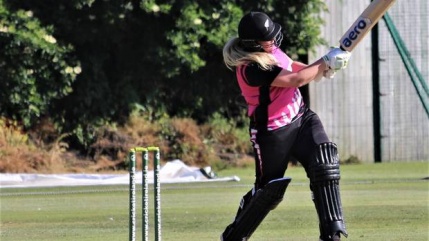 It was a dream debut for White Fern Jessica Watkin, who smashed 77 not out in the Twenty20 win over Ireland in Dublin yesterday.
Photo / Supplied
Whanganui's Jessica Watkin has hit the ground running in her White Ferns debut as she and captain Suzie Bates led the team to a commanding 10 wicket win over Ireland in the Twenty20 opening game of their United Kingdom tour overnight yesterday.
Watkin and Bates shared in an unbeaten 142-run opening partnership off just 68 balls at the YMCA Cricket Club in Dublin – an all-wicket record for the White Ferns in T20 and the fifth highest in all women's T20 internationals.
Watkin finished with 77 not out off 38 balls, striking 11 boundaries and three sixers, with Bates likewise unbeaten with 63 not out from 29 balls.
"It went pretty well, bit of a batter's dream out there, really," Watkin said as she and fellow debutant Bernadine Bezuidenhout took turns interviewing each other in a video posted to the White Ferns Facebook page.
"It was pretty cool to bat with Suzie, that's always been something that I've looked forward too.
"Pretty nervous to face that first ball, and then once I hit that I was set in. It was good batting out there."
Watkin reached her first 50 for New Zealand off 26 balls, having hit eight boundaries and two sixers.
She had been so zoned-in for the hunt to reach the Irish score of 136-8 that the personal milestone came as a surprise.
"It kinda snuck up on me pretty quick, so I didn't really know, and then Suzie gave me a handshake and I was like, 'oh, I better raise my bat now then'."
Wicketkeeper Bezuidenhout had a fine debut herself, getting five dismissals with the gloves – three catches and two stumpings – after Ireland won the toss and put themselves into bat.
The success will greatly improve Watkin's chances of establishing herself in the regular White Ferns playing XI as the tour moves onto three 50-over internationals with Ireland, followed by the T20 tri-series with South Africa and England, then three ODIs with England, the world champions of the format.
By Jared Smith
Wanganui Chronicle 8/6/18